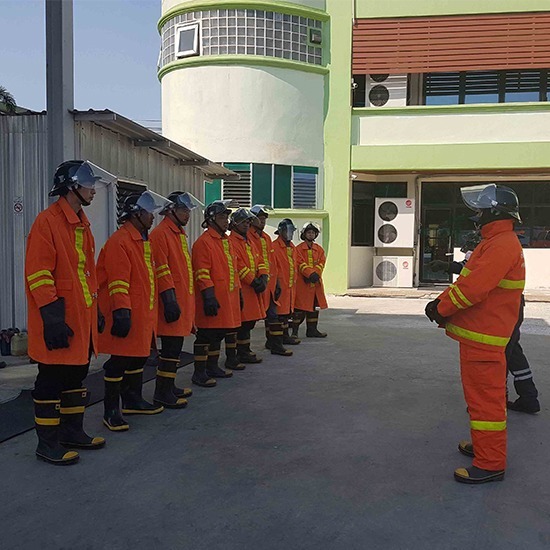 G S Security Guard Co.,Ltd.
The duty of the security guard
The duty of a security guard is of great importance to the welfare and property of your staff. Can be classified as follows
Take care of and protect the employer's property from theft, fire, and other misfortunes 24 hours a day.
Maintain peace and order within the area of ​​responsibility 24 hours a day.
Take care of the entry-exit of the person. And vehicle
Check the import or export assets within the area responsible for the order of the employer.
Facilitate traffic, entrances and exits and within responsible areas
Search the employer's employees upon their termination or before leaving the premises of a company, factory or other business as instructed by the employer.
Training standards We have a standard of training security personnel from the outset and before every operation to be able to take responsibility for their duties and to apply their competencies as they are properly trained. The type of business or organization responsible for maintaining security. It is also able to resolve immediate problems as well. In the training, the company conducts pre-operational training, training at the actual working unit and after work, as well as the company organizes regular review training on a regular basis. Annual, monthly, weekly and daily review training to check quality, potential, capability In the performance of the duties of the security personnel and find the right solutions and solutions to increase the efficiency of the security personnel in providing the best service to their employers.
Standards of information and technology We have standards, reliable company information, can be referenced, and have an office at the main residence, easy to contact. In addition, you can view the company's information through the Internet on the website, Google. And yellow pages (Thailand Yellow Pages), including bringing communication channels Social Network, Line, facebook And telephone numbers of the company office 24 hours a day to provide services to the employer Making sure that if they can contact Check the service at any time. To get the best and fastest service
6.Damage liability standards (Responsibility for damage) We have a high standard of responsibility for damage. Which the company has clearly stated in the employment contract with the employer With a preliminary assessment of the collateral This will be less or more depending on the nature of the agency, the number of people employed. The risk rate and nature of the work performed in each area that the employer will provide, the company is responsible